APRIL 14, 2017
ALTERNATIVE FACT: "They're devaluing their currency to  a level that you wouldn't believe. It makes it impossible for our companies to compete, impossible. They're killing us."— Donald J. Trump, June 6, 2015, announcing his candidacy for president.
ALTERNATIVE FACT: "They are the greatest currency manipulators ever!"—Donald J. Trump, July 21, 2016, accepting the Republican nomination for president.
ALTERNATIVE FACT: "I am going to instruct my Treasury Secretary to label China a currency manipulator."—Donald J. Trump, September 15, 2016, addressing the Economic Club of New York.
ALTERNATIVE FACT: "When you talk about currency manipulation, when you talk about devaluations, they are world champions."—President Donald J. Trump, April 2, 2017, in an interview with the Financial Times.
FACT: "They are not currency manipulators."—President Donald J. Trump, April 12, 2017, in an interview with the Wall Street Journal.
*
ALTERNATIVE FACT: "I think we've had one of the most successful 13 weeks in the history of the presidency."—President Donald J. Trump, April 6, 2017, speaking to reporters aboard Air Force One.
FACT: President Trump has been in office for 11 weeks.
BONUS FACT: The last 11 weeks.
*
ALTERNATIVE FACT:
New York Times Headline, Take 1
FACT:
New York Times Headline, Take 2
*
ALTERNATIVE FACT: "Nobody ever saw anything built. To this day I haven't heard of anything built. They used most of that money and spent it on social programs and we want this to be on infrastructure."—President Donald J. Trump, April 4, 2017, criticizing President Obama's 2009 $787 billion  stimulus legislation in a White House meeting with business leaders where he reiterated his intention to propose a $1 trillion infrastructure package of "shovel-ready" projects.
FACTS: According to journalist Michael Grunwald, author of 2013's "The New New Deal: The Hidden Story of Change in the Obama Era", the infrastructure components of Obama's stimulus package "put people to work directly with over 100,000 projects to upgrade roads, bridges, subways, water pipes, sewer plants, bus stations, fire stations, the Joseph R. Biden Railroad Station in Wilmington, Delaware, federal buildings, Grand Canyon National Park, trails, libraries, courthouses, the 'national gauge stream network', hospitals, Ellis Island, seaports, airports, dams, locks, levees, Indian reservations, fish hatcheries, coral reefs, passport offices, military bases, veterans cemeteries, historically black colleges, particle accelerators, and much more."
Obama's stimulus package also funded construction of America's largest wind farm and eight largest solar farms, it's first EV battery factories and advanced biorefineries, construction of a new Coast Guard headquarters and $7 billion worth of high-speed broadband projects. It also created the Build America Bond program, which financed $182 billion worth of local infrastructure projects.
President Trump during a town hall with business leaders at the White House.
*
ALTERNATIVE FACT:
Gorsuch filibuster would be 1st ever.Not even divisive Thomas nomination filibustered.Truth is D's will filibuster anyone @POTUS nominates

— Marco Rubio (@marcorubio) March 28, 2017
FACT: Merrick Garland.
BONUS FACT:
(From The Guardian, November 2, 2016)
ADDITIONAL BONUS FACT: In June 1968 President Lyndon B. Johnson nominated Abe Fortas, then an associate justice on the Supreme Court, to replace retiring Chief Justice Earl Warren. A coalition of Republican and Southern Democratic Senators opposed to Fortas' liberal record as an attorney and Supreme Court justice successfully filibustered his elevation to lead the Court. 
Abe Fortas
*
ALTERNATIVE FACT:
I am not trying to get "top level security clearance" for my children. This was a typically false news story.

— Donald J. Trump (@realDonaldTrump) November 16, 2016
FACT:
*
ALTERNATIVE FACT:
The NSA and FBI tell Congress that Russia did not influence electoral process. pic.twitter.com/d9HqkxYBt5

— President Trump (@POTUS) March 20, 2017
FACT: "It certainly wasn't our intention to say that today. We don't have any information on that subject. That's not something that was looked at."—FBI Director James Comey, March 20, 2017, in response to a question from Rep. Jim Himes (D-CT) asking him to respond to President Trump's tweet above.
President Trump's tweet followed Comey's and NSA Director Adm. Mike Rogers' answers to questions from House Intelligence Committee Chair Devin Nunes (R-CA) about whether Russian hackers penetrated voting machines on Election Day in key swing states Michigan, Wisconsin, Florida, North Carolina and Ohio. Comey and Rogers said they had no evidence that actual vote tallies were interfered with. Elsewhere in their testimony both Comey and Rogers repeated their belief that Russia intervened in the election to hurt Hillary Clinton's campaign and help Trump get elected.
*
ALTERNATIVE FACT: "The assault on the American auto industry, believe me, is over. It's over. Not going to have it anymore. I kept my word."—President Donald J. Trump, March 15, 2017, in a speech at the American Center for Mobility, a testing center for self-driving vehicles near Ypsilanti, Michigan.
FACT: The Obama Administration socked General Motors and Chrysler with cash infusions, most since repaid, that saved them from bankruptcy following the 2008 economic collapse. Both GM and Chrysler had exhausted their cash reserves and faced production halts that would have led to massive layoffs and cascaded throughout the auto industry to other manufacturers, including Ford, as well as auto parts suppliers.
Managed bankruptcies arranged by the Obama Administration led to a reorganization of the U.S. auto industry that catapulted Detroit to record auto sales–
and resulted in employment rebounds throughout the auto and auto parts industries–
that helped to dramatically cut Michigan's unemployment rate–
*
ALTERNATIVE FACT: "We're going to have insurance for everybody. There was a philosophy in some circles that if you can't pay for it, you don't get it. That's not going to happen with us."—President-elect Donald J. Trump, as quoted in the Washington Post on January 15, 2017. Trump went on to say that people covered by his plan–i.e., everybody– "can expect to have great health care…. Much less expensive and much better."
FACT: President Trump this week strongly endorsed what he called Paul Ryan's "new and great" American Health Care Act. The centerpiece of the AHCA is a $600 billion tax cut which primarily benefits individuals whose incomes place them in the top one-percent of Americans. Those with incomes in the top 0.1% would especially benefit. Meanwhile, Standard & Poor's estimates 6 million to 10 million individuals will lose health insurance altogether if the AHCA passes. Analysts at the Brooking Institution are even more pessimistic, putting the number at 15 million or more. Analysts also expect many of those who retain health insurance will face significantly higher premiums, deductibles and co-pays, particularly rural and older voters who were core Trump supporters in November. The Congressional Budget Office's analysis is expected next week– but not before the House votes on TrumpCare.
*
ALTERNATIVE FACT:
122 vicious prisoners, released by the Obama Administration from Gitmo, have returned to the battlefield. Just another terrible decision!

— Donald J. Trump (@realDonaldTrump) March 7, 2017
—President Donald J. Trump, on March 7, 2017, shortly after a segment aired on Fox & Friends claiming that 122 captives formerly held at Guantanomo Bay reengaged in hostilities following their release.
FACT: Fox News got it right, but it wasn't good enough for the Live-Tweeter-in-Chief. According to the latest statistics released by the U.S. Director of National Intelligence, 122 of the 693 detainees released from Gitmo through July 15, 2016–17.6%–resumed some association with al-Qaida, the Taliban or another militant group. However, 113 of the 122–92.6%–were transferred prior to January 22, 2009 by President George W. Bush. Of those released by the Bush Administration, 21.2% returned to the battlefield. Of those released by the Obama Administration, the recidivism rate was 5.6%. Of the 86 detainees merely "suspected of reengaging," 75–87.2%–were released by the Bush Administration.
President Trump also misspoke when he referred to those held at Guantanomo Bay as "prisoners" rather than "detainees". Prisoners-of-war are subject to the protections of the Geneva Convention. Official U.S. government policy since 9/11 holds that those captured or arrested in the battle against terrorism are not "prisoners" under the Geneva Convention.
*
ALTERNATIVE FACT:
If the ban were announced with a one week notice, the "bad" would rush into our country during that week. A lot of bad "dudes" out there!

— Donald J. Trump (@realDonaldTrump) January 30, 2017
—President Donald J. Trump, on January 30, explaining the immediate and chaotic implementation of his Administration's original "Muslim travel ban" before it was rejected by several courts earlier that month.
FACT: The Trump Administration today announced a revised version of the Muslim travel ban. It does not take effect for ten days, until March 16.
Secretary of State Rex Tillerson, Attorney General Jeff Sessions and Homeland Security Secretary John Kelly announcing the Trump Administration's revised travel and refugee ban from six Muslim-majority countries. Trump signed the new executive order in private, and the three Cabinet members did not answer questions from the press.
*
ALTERNATIVE FACT:
It is so pathetic that the Dems have still not approved my full Cabinet.

— Donald J. Trump (@realDonaldTrump) March 3, 2017
FACT:
After the votes taken earlier this afternoon, the U.S. Senate has now confirmed all of the available Cabinet nominations.

— Marco Rubio (@marcorubio) March 3, 2017
The Senate is controlled 52-48 by the GOP, and Cabinet nominations are not subject to a Democratic filibuster.
Meanwhile, the Senate approved former Montana Rep. Ryan Zinke's nomination for interior secretary on Wednesday, and yesterday confirmed Dr. Ben Carson and former Texas Gov. Rick Perry for housing and energy secretary, respectively. Two more Cabinet nominees remain to be confirmed. However, the Trump Administration has not yet sent the Senate paperwork regarding the nomination of former Georgia Gov. Sonny Perdue to head the Agriculture Department. And Alex Acosta was only nominated to lead the Labor Department on Feb. 16, following the withdrawal of Trump's original nominee, Andrew Puzder.
BONUS FACTS: Senate confirmation is required for 552 key administration positions. The Trump Administration has not yet submitted nominees for 517 of them.
President Obama's full cabinet was in place on the 99th day of his first term. It has been 42 days since Trump became president.
*
ALTERNATIVE FACT: "There's nothing to recuse himself [from]. He was 100% straight with the committee."—White House press secretary Sean Spicer, March 2, 2017, on Fox News, dismissing calls for Attorney General Jeff Sessions to recuse himself from Justice Department investigations into contacts between Donald Trump's presidential campaign and Russia. Spicer told Fox News the message that Sessions should not recuse himself from the investigation came "straight from President Trump."
FACT: "I have decided to recuse myself from any existing or future investigations of any matters related in any way to the campaigns for President of the United States,"—Sessions, later in the day, saying his decision was necessary to avoid any conflict of interest between his role as Attorney General and his earlier role as a key supporter of Trump's presidential campaign.
Sessions said last night's revelation in the Washington Post that, contrary to his testimony during his Senate confirmation hearings, he had two meetings with Russia's U.S. Ambassador during the campaign played no role in his decision today.
*
ALTERNATIVE FACT: "I haven't called Russia in 10 years,"—President Donald J. Trump, February 27, 2017, dismissing calls for the appointment of a special prosecutor to investigate Russian interference in last year's election and possible collusion between him or his associates and representatives of the Putin government.
FACT: Trump may not have called ahead, but he traveled to Moscow in 2013 to attend the Miss Universe Pageant, held that year in Russia thanks to a partnership between Trump and Russian billionaire Aras Agalarov. Here's a picture of Trump wearing a Russian fur hat during his visit:
More recently, Trump spoke on the phone from the Oval Office with Russian President Vladimir Putin on January 28, 2017. It is possible, however, that a White House aide placed the call, or that it originated from Moscow.
*
ALTERNATIVE FACT: "It's an unbelievably complex subject. Nobody knew that health care could be so complicated."—President Donald J. Trump, February 27, 2017, speaking to a group of governors at the White House.
FACT: Everybody knew that.
BONUS ALTERNATIVE FACT: "I can't do it until we do health care," Trump later told the governors, referring to his plans for passing legislation slashing upper-bracket income taxes. "Statutorily — that's the way it is."
BONUS FACT: That's not the way it is statutorily. But it is the way it is politically and legislatively. Senate Majority Leader Mitch McConnell and House Speaker Paul Ryan want to pass upper-income tax-cutting legislation by party-line votes in the Senate and House. That requires it be passed via the reconciliation process in order to avoid a filibuster by Senate Democrats. However, congressional rules require legislation passed via reconciliation not increase the deficit, which the GOP's goal of passing massive upper-income tax cuts would do.  (Obamacare repeal can be passed through reconciliation without increasing the deficit because it's deficit-increasing tax cuts for the wealthy would be offset by cuts in health care spending for the poor and middle-class.)
In order to get around this legislative obstacle the GOP must repeal Obamacare's upper-income taxes before reforming the tax code. With those taxes repealed, the GOP can then pass "revenue-neutral" tax reform through the filibuster-proof reconciliation process.
*
ALTERNATIVE FACT: "This place is packed, there are lines that go back six blocks and I tell you that because you won't read about it, OK. But there are lines that go back six blocks."—President Donald J. Trump, February 24, 2017, in a speech to CPAC, the Conservative Political Action Conference, at the Gaylord National Resort & Convention Center in National Harbor, Maryland.
FACT: The scene outside the Gaylord Convention Center at the time Trump spoke: 
*
ALTERNATIVE FACT: "The reality is that [people] are losing their health care. But they're losing it under Obamacare… access is going down."—White House press secretary Sean Spicer, February 22, 2017.
FACT: A survey released last week by the National Center for Health Statistics, a division of the federal Centers for Disease Control and Prevention, found that the overall uninsured rate in the U.S. dropped from 16 percent to 8.8 percent since the Affordable Care Act went into effect in 2010, a decrease of 7.2 percentage points. That translates into 20.4 million fewer people without health insurance in 2016 than in 2010, and 400,000 fewer people than in 2015.
Among adults aged 18-64, 12.3% were uninsured in 2016, down from 20.4% in 2013:
The uninsurance rate among adults would be significantly lower still had the U.S. Supreme Court not ruled in 2012 that individuals states could opt out of the ACA's Medicaid expansion program. As of January 1, 2017, 19 states, all controlled by Republican governors, have continued to exercise that option.
Among children aged 0–17 years, 5.0% were uninsured in 2016, down from 13.9% in 1997, the year the S-CHIP Program was created to cover children in families with modest incomes which made too much money to qualify for Medicaid:
BONUS ALTERNATIVE FACT:
ObamaCare is a job killer. We'll repeal ObamaCare once and for all & eliminate its mandates, taxes & intrusion into businesses & your lives.

— Vice President Pence (@VP) February 22, 2017
FACT: The U.S. private sector has gained 15 million jobs since the ACA was passed in March 2010, a record for consecutive months of job growth.
*
ALTERNATIVE FACT: President Donald J. Trump's frequent weekend visits to Mar-a-Lago, the private oceanfront resort and spa he owns in Palm Beach, Florida, make him accessible to "regular Americans"—deputy White House press secretary Sarah Huckabee Sanders, February 20, 2017, in response to questions from CNN regarding whether Trump was selling presidential access to Mar-a-Lago members.
FACT: Trump doubled the membership fee at Mar-a-Lago to $200,000 following his election to the presidency last November, nearly four times U.S. median household income of $56,516 in 2015, the latest year for which Census Bureau data is available. In addition, members must pay annual dues of $14,000 plus applicable taxes to maintain their membership.
The New York Times reported last weekend that "the club's nearly 500 paying members include dozens of real estate developers, Wall Street financiers, energy executives and others whose businesses could be affected by Mr. Trump's policies. At least three club members are under consideration for an ambassadorship. Most of the 500 have had memberships predating Mr. Trump's presidential campaign, and there are a limited number of memberships still available."
#MaraLago #PalmBeach
*
ALTERNATIVE FACT: "We've got to keep our country safe…. You look at what's happening last night in Sweden. Sweden. Who would believe this? Sweden. They took in large numbers. They're having problems like they never thought possible"—President Donald J. Trump, February 18, 2017, at a campaign-style rally in Melbourne, Florida.
FACT: After Trump spoke, a former Conservative Prime Minister of Sweden asked a question on the minds of baffled Swedes and observers around the word:
Sweden? Terror attack? What has he been smoking? Questions abound. https://t.co/XWgw8Fz7tj

— Carl Bildt (@carlbildt) February 19, 2017
Trump later clarified that he was referring to a segment that aired the night before on Tucker Carlson's Fox News show:
My statement as to what's happening in Sweden was in reference to a story that was broadcast on @FoxNews concerning immigrants & Sweden.

— Donald J. Trump (@realDonaldTrump) February 19, 2017
Carlson interviewed documentary filmmaker Ami Horowitz, who claimed there has been "an absolute surge in both gun violence and rape in Sweden once they began this open-door policy"—but made no reference to non-existent terror incidents committed that night in Sweden by immigrants, refugees or anyone else.
Two Swedish police officers interviewed in Horowitz' documentary say their comments about rising crime in Sweden were taken out of context in the film and on Fox News: "I don't understand why we are a part of the segment," Anders Göranzon, one of the policeman, told the Swedish daily Dagens Nyheter. "The interview was about something completely different to what Fox News and Horowitz were talking about. It was supposed to be about crime in high risk areas. Areas with high crime rates. There wasn't any focus on migration or immigration. We were answering completely different questions in the interview. This is bad journalism."
BONUS FACT: Sweden took in more refugees per-capita in 2016 than any other European country. However, the only terror attack connected to the recent influx occurred in January when three members of the Nordic Resistance Movement, a neo-Nazi group espousing racism and anti-Semitism and opposing non-white immigration to Sweden, attacked a refugee center in Gothenburg with a home-made bomb. One person was seriously injured.
*
ALTERNATIVE FACT: "I can tell you, speaking for myself, I own nothing in Russia. I have no loans in Russia. I don't have any deals in Russia."—President Donald J. Trump, February 16, 2017, at a White House press conference.
FACT: The truth of President Trump's repeated claims that he has no business ties with Russia depends on what the meaning of the word "in" is. It's true that he owns no real estate in Russia–despite many efforts over the years to acquire major properties there.
But Russian money has been key to Trump's businesses around the world for decades following his serial bankruptcies in the 1990s, when Wall Street investment banks soured on lending money to the future president. "Russians make up a pretty disproportionate cross-section of a lot of our assets, say in Dubai, and certainly with our project in SoHo and anywhere in New York," Donald Trump Jr. told a real estate conference in 2008. "We see a lot of money pouring in from Russia."
That same year Trump sold an oceanfront 6.26 acre property in Palm Beach, Florida, to Russian billionaire Dmitry Rybolovlev for $95 million ($15.2 million/acre). Trump had bought the estate at a bankruptcy auction in 2004 for $41 million ($6.6 million/acre). Rybovlev tore down the property's mold-infested 81,738 square-foot mansion without ever moving into it, and later subdivided the site into three separate lots. Last November, shortly after the election, he sold a 2.72 acre lot on the property for $34.34 million ($12.6 million/acre.)
More recently, Trump partnered with Russian billionaire Aras Agalarov to hold the Miss Universe pageant in Moscow in 2013, when he famously expressed the hope that he and Russian President Vladimir Putin would become besties:
Do you think Putin will be going to The Miss Universe Pageant in November in Moscow – if so, will he become my new best friend?

— Donald J. Trump (@realDonaldTrump) June 19, 2013
#Russia #Putin #MissUniverse #PalmBeach #DonaldTrumpJr.
*
ALTERNATIVE FACT: "I am the least anti-Semitic person that you've ever seen in your entire life."—President Donald J. Trump, February 16, 2017, at a White House press conference, in response to a question from Jake Turx of Ami Magazine, an Orthodox Jewish newsweekly, about a recent rise in anti-Semitism and anti-Semitic incidents in the U.S. Trump did not otherwise respond directly to Turx' question and accused him of asking a "very insulting question."
FACT: Turx prefaced his question by saying "I haven't seen anybody in my community accuse either yourself or anyone on your staff of being anti-Semitic. However, what we are concerned about, and what we haven't really heard being addressed, is an uptick in anti-Semitism and how the government is planning to take care of it."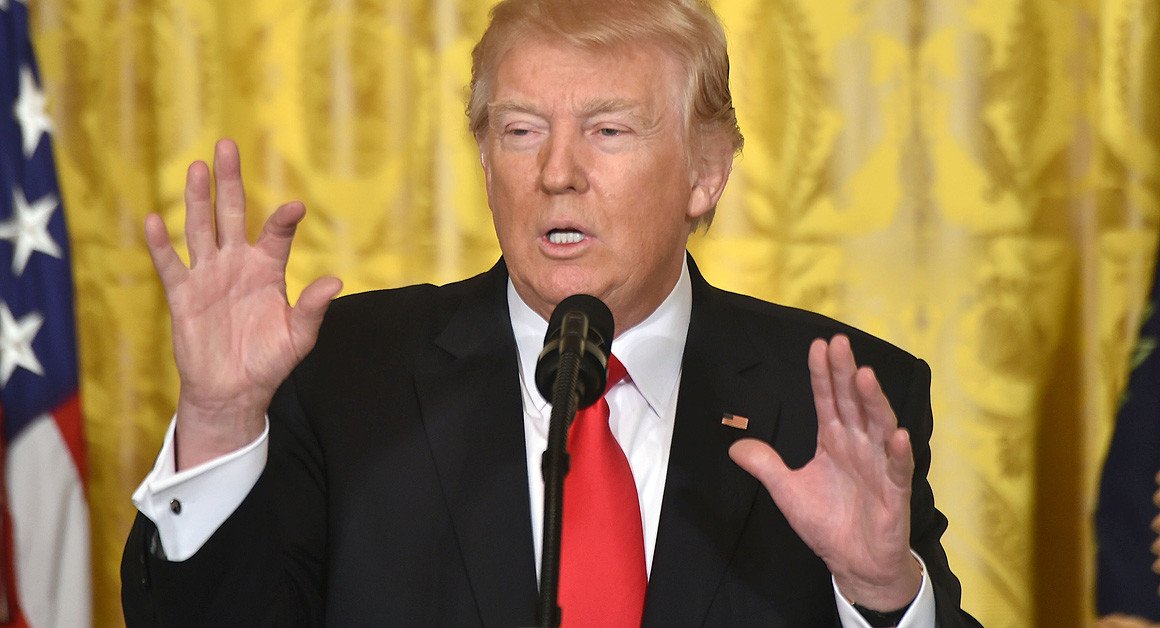 BONUS FACT: Jake Turx (pictured below) has seen a less anti-Semitic person in his life.
BONUS FACT: Trump posted this tweet in 2013:
If Jon Stewart is so above it all & legit, why did he change his name from Jonathan Leibowitz? He should be proud of his heritage!

— Donald J. Trump (@realDonaldTrump) May 3, 2013
#anti-Semitism
*
ALTERNATIVE FACT: "So what's going on with autism? When you look at the tremendous increase, it's really such an incredible— it's really a horrible thing to watch, the tremendous amount of increase."—President Donald J. Trump, February 14, 2017, in a White House meeting with educators and parents.
FACT: There is no evidence for an increase in autism in the United States. A 2016 Centers for Disease Control study estimated that one in 68 school-age children have been diagnosed with autism. That estimate is unchanged from the previous report issued in 2014. Autism diagnoses have increased since the 1990s. But experts attribute the rise to broader diagnostic criteria and increased public awareness, not to a rise in actual rates of autism.
President Trump and Education Secretary Betsy DeVos at a February 14, 2017 White House meeting with teachers and parents.
Trump met with prominent anti-vaccine activist Robert F. Kennedy, Jr. in January and has previously linked vaccines to autism, as in these 2012 tweets:
Massive combined inoculations to small children is the cause for big increase in autism….

— Donald J. Trump (@realDonaldTrump) August 23, 2012
Autism rates through the roof–why doesn't the Obama administration do something about doctor-inflicted autism. We lose nothing to try.

— Donald J. Trump (@realDonaldTrump) October 22, 2012
#autism #vaccines
*
ALTERNATIVE FACT: "There's nothing that would conclude me that anything different has changed with respect to that time period."—White House press secretary Sean Spicer, February 14, 2017, in response to a question about pre-election contacts between ex-National Security Advisor Michael Flynn or any other Trump campaign representatives and officials of the Russian government. Previously, President Trump, Vice President Pence and Spicer have denied the existence of any such contacts during a campaign in which the Russian government interfered in order to help elect Trump.
FACT: In an interview with the Washington Post published on February 9, Russian Ambassador to the U.S. Sergey Kislyak acknowledged that he communicated with Flynn via text, phone and in person before the November 8 election and during the transition. Current and former U.S. government officials confirmed the ongoing contacts.
Former-NSA Advisor Michael Flynn seated next to Russian President Vladimir Putin and across from Jill Stein at the 10th Anniversary Dinner for Russia Today in Moscow on December 10, 2015.
#SeanSpicer #MichaelFlynn #Russia #Putin
*
ALTERNATIVE FACT: "I have actually, having worked before on a campaign in New Hampshire, I can tell you that this issue of busing voters into New Hampshire is widely known by anyone who's worked in New Hampshire politics. It's very real. It's very serious. This morning, on this show, is not the venue for me to lay out all the evidence."—White House senior policy advisor Stephen J. Miller, February 12, 2017, in response to a question from ABC's George Stephanopoulus about President Trump's claim earlier in the week that thousands of illegal voters were bused from Massachusetts to New Hampshire on Election Day, causing his and incumbent GOP Sen. Kelly Ayotte's defeats in the state.
FACT: There is no evidence for Trump's and Miller's claims. In November the state's Republican governor Chris Sununu and secretary of state Bill Gardner acknowledged voter fraud was not a problem in New Hampshire on Election Day.In response to Miller's unsubstantiated claims yesterday former GOP New Hampshire Attorney General Tom Rath posted this on Twitter—
Let me as be unequivocal as possible-allegations of voter fraud in NH are baseless,without any merit-it's shameful to spread these fantasies

— Tom Rath (@polguru) February 12, 2017
And Fergus Cullen, a former New Hampshire GOP Chairman and author of 2015's "Granite Steps: Stumbles, Surprises, and Successes on the New Hampshire Primary Trail" tweeted this challenge—
I will pay $1000 to 1st person proving even 1 outofstate person took bus from MA 2 any NH polling place last ElectionDay #mapoli #nhpolitics

— Fergus Cullen (@FergusCullen) February 10, 2017
#voterfraud #NewHampshire #StephenMiller
*
ALTERNATIVE FACT: "The failing @nytimes does major FAKE NEWS China story saying 'Mr. Xi has not spoken to Mr. Trump since Nov.14.' We spoke at length yesterday!"— President Donald J. Trump, February 10, 2017, on Twitter, 8:35 a.m. EST.
FACT: The early print edition of The New York Times, written and published before President Trump spoke with President Xi on the evening of February 9, did state the two had not spoken since November 14. However it was not "fake news" because it was not a deliberate attempt to mislead or deceive the public. The Times rewrote its story's lead online and in the late print edition upon learning of the conversation between Mr. Trump and Mr. Xi.
BONUS FACTS: While acknowledging significant economic challenges ahead, The New York Times last week reported that it added 276,000 new digital subscriptions in the fourth quarter of 2016, the paper's best quarter since 2011. Combined with 25,000 new print subscribers, The Times' overall paid print and digital subscriptions passed three million, an all-time high, and twice its total circulation in 2015. 
#fakenews #NewYorkTimes #China #PresidentXi
*
ALTERNATIVE FACT: "Sen. Richard Blumenthal, who never fought in Vietnam when he said for years he had (major lie), now misrepresents what Judge Gorsuch told him?"— President Donald J. Trump, February 9, 2017, on Twitter, 6:57 a.m. EST.
FACT: Sen. Blumenthal (D-Conn.) said on February 8 that in a private meeting President Trump's Supreme Court nominee Neil Gorsuch described the president's escalating attacks on federal judges as "disheartening" and "demoralizing." Gorsuch's remarks were confirmed prior to the president's tweet by several Administration officials present at the meeting between the senator and the nominee.
BONUS FACT: President Trump received five draft deferments that allowed him to avoid military service during the Vietnam War. The first four were college deferments. The fifth was a post-graduation medical deferment following a doctor's discovery of bone spurs in his heels. "I had a doctor that gave me a letter — a very strong letter on the heels," Trump told The New York Times in August 2016. Trump reported that the condition was later cured without surgery, although he couldn't recall exactly when or how. "Over a period of time, it healed up," he said.
Donald J. Trump, center, as a high school senior at the New York Military Academy in 1964.
#Gorsuch #Blumenthal #judges #draft #deferments #bonespurs
*
ALTERNATIVE FACT: "You look at Chicago, and you look at other places…. So many of the problems are caused by gang members, many of whom are not even legally in our country."— President Donald J. Trump, February 8, 2017, speaking to a law-enforcement conference in Washington, D.C.
FACT: Gang members are responsible for many of the problems relating to crime in Chicago and elsewhere. But immigrants are less likely to commit crimes than individuals born in the U.S., and there is no evidence that undocumented immigrants are more likely to commit crime than lawful immigrants. In addition, "sanctuary cities" that decline to enforce federal immigration laws and detain undocumented immigrants have lower overall crime rates than other cities.
#Chicago #gangs #immigrants
*
ALTERNATIVE FACT: "And yet the murder rate in our country is the highest it's been in 47 years, right? Did you know that? Forty-seven years. I used to use that— I'd say that in a speech and everybody was surprised. Because the press doesn't tell it like it is. It wasn't to their advantage to say that. But the murder rate is the highest it's been in, I guess, from 45 to 47 years."— President Donald J. Trump, February 7, 2017, speaking with a group of sheriffs from the National Sheriffs Association in Washington, D.C.
FACT: The murder rate in the U.S. is approaching the 57-year low it hit in 2014, before a slight increase in 2015, the most recent year for which FBI data is available.
#crime #murderrate
*
ALTERNATIVE FACT: "Any negative polls are fake news, just like the CNN, ABC, NBC polls in the election."— President Donald J. Trump, February 6, 2017, on Twitter.
FACT: CNN, ABC and NBC polls published leading up to the presidential election in November were not "fake news" because they were not deliberate attempts to mislead or deceive the public. Similarly, more than zero negative polls published since the election were also not deliberate attempts to mislead or deceive the public.
BONUS FACT: ABC's and NBC's final tracking polls before the election gave Hillary Clinton a three-point national lead over Donald Trump. Clinton won the national popular vote by 2.1 percentage points and 2.9 million popular votes. (CNN's final poll, published two weeks before Election Day, gave Clinton a five-point lead.)
#fakenews #polls #negativepolls #ABC #NBC #CNN #HillaryClinton