ALTERNATIVE FACT: "I can tell you, speaking for myself, I own nothing in Russia. I have no loans in Russia. I don't have any deals in Russia."—President Donald J. Trump, February 16, 2017, at a White House press conference.
FACT: The truth of President Trump's repeated claims that he has no business ties with Russia depends on what the meaning of the word "in" is. It's true that he owns no real estate in Russia–despite many efforts over the years to acquire major properties there.
But Russian money has been key to Trump's businesses around the world for decades following his serial bankruptcies in the 1990s, when Wall Street investment banks soured on lending money to the future president. "Russians make up a pretty disproportionate cross-section of a lot of our assets, say in Dubai, and certainly with our project in SoHo and anywhere in New York," Donald Trump Jr. told a real estate conference in 2008. "We see a lot of money pouring in from Russia."
That same year Trump sold an oceanfront 6.26 acre property in Palm Beach, Florida, to Russian billionaire Dmitry Rybolovlev for $95 million ($15.2 million/acre). Trump had bought the estate at a bankruptcy auction in 2004 for $41 million ($6.6 million/acre). Rybovlev tore down the property's mold-infested 81,738 square-foot mansion without ever moving into it, and later subdivided the site into three separate lots. Last November, shortly after the election, he sold a 2.72 acre lot on the property for $34.34 million ($12.6 million/acre.)
More recently, Trump partnered with Russian billionaire Aras Agalarov to hold the Miss Universe pageant in Moscow in 2013, when he famously expressed the hope that he and Russian President Vladimir Putin would become besties:
https://twitter.com/realDonaldTrump/status/347191326112112640
#Russia #Putin #MissUniverse #PalmBeach #DonaldTrumpJr.
*
ALTERNATIVE FACT: "I am the least anti-Semitic person that you've ever seen in your entire life."—President Donald J. Trump, February 16, 2017, at a White House press conference, in response to a question from Jake Turx of Ami Magazine, an Orthodox Jewish newsweekly, about a recent rise in anti-Semitism and anti-Semitic incidents in the U.S. Trump did not otherwise respond directly to Turx' question and accused him of asking a "very insulting question."
FACT: Turx prefaced his question by saying "I haven't seen anybody in my community accuse either yourself or anyone on your staff of being anti-Semitic. However, what we are concerned about, and what we haven't really heard being addressed, is an uptick in anti-Semitism and how the government is planning to take care of it."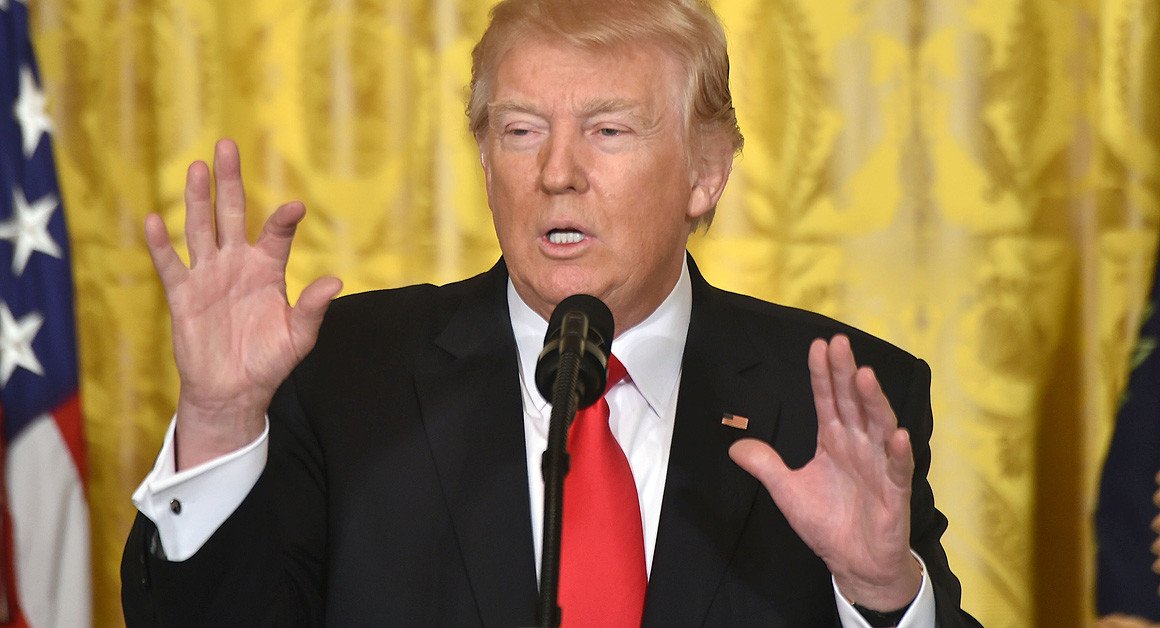 BONUS FACT: Jake Turx (pictured below) has seen a less anti-Semitic person in his life.
BONUS FACT: Trump posted this tweet in 2013:
https://twitter.com/realDonaldTrump/status/330360556362018816
#anti-Semitism
*
ALTERNATIVE FACT: "So what's going on with autism? When you look at the tremendous increase, it's really such an incredible— it's really a horrible thing to watch, the tremendous amount of increase."—President Donald J. Trump, February 14, 2017, in a White House meeting with educators and parents.
FACT: There is no evidence for an increase in autism in the United States. A 2016 Centers for Disease Control study estimated that one in 68 school-age children have been diagnosed with autism. That estimate is unchanged from the previous report issued in 2014. Autism diagnoses have increased since the 1990s. But experts attribute the rise to broader diagnostic criteria and increased public awareness, not to a rise in actual rates of autism.
President Trump and Education Secretary Betsy DeVos at a February 14, 2017 White House meeting with teachers and parents.
Trump met with prominent anti-vaccine activist Robert F. Kennedy, Jr. in January and has previously linked vaccines to autism, as in these 2012 tweets:
https://twitter.com/realDonaldTrump/status/238717783007977473
https://twitter.com/realDonaldTrump/status/260415099452416000
#autism #vaccines
*
ALTERNATIVE FACT: "There's nothing that would conclude me that anything different has changed with respect to that time period."—White House press secretary Sean Spicer, February 14, 2017, in response to a question about pre-election contacts between ex-National Security Advisor Michael Flynn or any other Trump campaign representatives and officials of the Russian government. Previously, President Trump, Vice President Pence and Spicer have denied the existence of any such contacts during a campaign in which the Russian government interfered in order to help elect Trump.
FACT: In an interview with the Washington Post published on February 9, Russian Ambassador to the U.S. Sergey Kislyak acknowledged that he communicated with Flynn via text, phone and in person before the November 8 election and during the transition. Current and former U.S. government officials confirmed the ongoing contacts.
Former-NSA Advisor Michael Flynn seated next to Russian President Vladimir Putin and across from Jill Stein at the 10th Anniversary Dinner for Russia Today in Moscow on December 10, 2015.
#SeanSpicer #MichaelFlynn #Russia #Putin
*
ALTERNATIVE FACT: "I have actually, having worked before on a campaign in New Hampshire, I can tell you that this issue of busing voters into New Hampshire is widely known by anyone who's worked in New Hampshire politics. It's very real. It's very serious. This morning, on this show, is not the venue for me to lay out all the evidence."—White House senior policy advisor Stephen J. Miller, February 12, 2017, in response to a question from ABC's George Stephanopoulus about President Trump's claim earlier in the week that thousands of illegal voters were bused from Massachusetts to New Hampshire on Election Day, causing his and incumbent GOP Sen. Kelly Ayotte's defeats in the state.
FACT: There is no evidence for Trump's and Miller's claims. In November the state's Republican governor Chris Sununu and secretary of state Bill Gardner acknowledged voter fraud was not a problem in New Hampshire on Election Day.In response to Miller's unsubstantiated claims yesterday former GOP New Hampshire Attorney General Tom Rath posted this on Twitter—



Let me as be unequivocal as possible-allegations of voter fraud in NH are baseless,without any merit-it's shameful to spread these fantasies




— Tom Rath (@polguru) February 12, 2017
And Fergus Cullen, a former New Hampshire GOP Chairman and author of 2015's "Granite Steps: Stumbles, Surprises, and Successes on the New Hampshire Primary Trail" tweeted this challenge—



I will pay $1000 to 1st person proving even 1 outofstate person took bus from MA 2 any NH polling place last ElectionDay #mapoli #nhpolitics




— Fergus Cullen (@FergusCullen) February 10, 2017
#voterfraud #NewHampshire #StephenMiller
*
ALTERNATIVE FACT: "The failing @nytimes does major FAKE NEWS China story saying 'Mr. Xi has not spoken to Mr. Trump since Nov.14.' We spoke at length yesterday!"— President Donald J. Trump, February 10, 2017, on Twitter, 8:35 a.m. EST.
FACT: The early print edition of The New York Times, written and published before President Trump spoke with President Xi on the evening of February 9, did state the two had not spoken since November 14. However it was not "fake news" because it was not a deliberate attempt to mislead or deceive the public. The Times rewrote its story's lead online and in the late print edition upon learning of the conversation between Mr. Trump and Mr. Xi.
BONUS FACTS: While acknowledging significant economic challenges ahead, The New York Times last week reported that it added 276,000 new digital subscriptions in the fourth quarter of 2016, the paper's best quarter since 2011. Combined with 25,000 new print subscribers, The Times' overall paid print and digital subscriptions passed three million, an all-time high, and twice its total circulation in 2015. 
#fakenews #NewYorkTimes #China #PresidentXi
*
ALTERNATIVE FACT: "Sen. Richard Blumenthal, who never fought in Vietnam when he said for years he had (major lie), now misrepresents what Judge Gorsuch told him?"— President Donald J. Trump, February 9, 2017, on Twitter, 6:57 a.m. EST.
FACT: Sen. Blumenthal (D-Conn.) said on February 8 that in a private meeting President Trump's Supreme Court nominee Neil Gorsuch described the president's escalating attacks on federal judges as "disheartening" and "demoralizing." Gorsuch's remarks were confirmed prior to the president's tweet by several Administration officials present at the meeting between the senator and the nominee.
BONUS FACT: President Trump received five draft deferments that allowed him to avoid military service during the Vietnam War. The first four were college deferments. The fifth was a post-graduation medical deferment following a doctor's discovery of bone spurs in his heels. "I had a doctor that gave me a letter — a very strong letter on the heels," Trump told The New York Times in August 2016. Trump reported that the condition was later cured without surgery, although he couldn't recall exactly when or how. "Over a period of time, it healed up," he said.
Donald J. Trump, center, as a high school senior at the New York Military Academy in 1964.
#Gorsuch #Blumenthal #judges #draft #deferments #bonespurs
*
ALTERNATIVE FACT: "You look at Chicago, and you look at other places…. So many of the problems are caused by gang members, many of whom are not even legally in our country."— President Donald J. Trump, February 8, 2017, speaking to a law-enforcement conference in Washington, D.C.
FACT: Gang members are responsible for many of the problems relating to crime in Chicago and elsewhere. But immigrants are less likely to commit crimes than individuals born in the U.S., and there is no evidence that undocumented immigrants are more likely to commit crime than lawful immigrants. In addition, "sanctuary cities" that decline to enforce federal immigration laws and detain undocumented immigrants have lower overall crime rates than other cities.
#Chicago #gangs #immigrants
*
ALTERNATIVE FACT: "And yet the murder rate in our country is the highest it's been in 47 years, right? Did you know that? Forty-seven years. I used to use that— I'd say that in a speech and everybody was surprised. Because the press doesn't tell it like it is. It wasn't to their advantage to say that. But the murder rate is the highest it's been in, I guess, from 45 to 47 years."— President Donald J. Trump, February 7, 2017, speaking with a group of sheriffs from the National Sheriffs Association in Washington, D.C.
FACT: The murder rate in the U.S. is approaching the 57-year low it hit in 2014, before a slight increase in 2015, the most recent year for which FBI data is available.
#crime #murderrate
*
ALTERNATIVE FACT: "Any negative polls are fake news, just like the CNN, ABC, NBC polls in the election."— President Donald J. Trump, February 6, 2017, on Twitter.
FACT: CNN, ABC and NBC polls published leading up to the presidential election in November were not "fake news" because they were not deliberate attempts to mislead or deceive the public. Similarly, more than zero negative polls published since the election were also not deliberate attempts to mislead or deceive the public.
BONUS FACT: ABC's and NBC's final tracking polls before the election gave Hillary Clinton a three-point national lead over Donald Trump. Clinton won the national popular vote by 2.1 percentage points and 2.9 million popular votes. (CNN's final poll, published two weeks before Election Day, gave Clinton a five-point lead.)
#fakenews #polls #negativepolls #ABC #NBC #CNN #HillaryClinton