1. What was your favorite show of 2014?
Evan: Broad City! I don't have much to add to the chorus of hosannas but I can't recall a more perfect first season of a television series.
Honorable mention: Blackish. Still finding its feet but off to a very promising start, this show is deftly splitting the difference between network sitcom comfort fare (like its lead-in Modern Family) and the edgier, more honest reckoning with race happening these days on cable (on shows like Key & Peele, The Eric Andre Show, and the late, lamented Totally Biased with W. Kamau Bell). For a variety of reasons there's currently an opening for a 21st century Cosby Show, and unless things go to seed after showrunner Larry Wilmore leaves to go host The Minority Report, Blackish is it.
Lili: Transparent. For the phrase "vaginal learner," for its claustrophobic, forgiving, clannish portrayal of intimacy and for the leaky, secretive Pfeffermans. The supporting cast is ridiculous: Judith Light! Carrie Brownstein! Kathryn Hahn, who Phil praised so memorably for a strangely similar part. And Melora Hardin as Tami is a hard, bronzed delight; hips and empty swagger. Maura condemns her children of selfishness, and it's not that Maura's wrong, but she's so selfish too that an analysis that could have been brutal in the hands of a more saintly (and less interesting) version of the character fails to find purchase. In practice, people on Transparent see beyond themselves all the time; the problem is that they're highly intelligent readers who see badly. How vision gets distorted by expectation and intimacy and love on the show is fascinating and, to my mind, a better version of the aesthetized neuroses Woody Allen made famous. Less brittle. I'm thinking of how Maura transitions from accusing her kids of disappearing at her debut to excitedly discussing details of the wig and eyelashes in a way that undercuts Davina's dire prediction that in five years she'll have no one. I'm thinking of the way Ali's experience with Dale highlights her truly frightening failure of perception, her blind spots when she prides herself on seeing clearly, was one of my favorite parts of the whole season.
Also: Orphan Black, Getting On. Netflix's Happy Valley was fascinating — Batya Ungar-Sargon breaks it down here. (Orange is the New Black had a mostly great second season, I thought, but I'm listing it last because of the uncharacteristically preachy finale. I wish the show hadn't turned on Vee quite so hard — even Pennsatucky gets sympathy, and OITNB is better than cardboard villains.)
Phil: The Good Wife. The Good Wife. A thousand times, The Good Wife. This is a television show. This is a television show. This is a television show I love. In an era of cable production that tries to liberate itself from the commercial and industrial limitations of network TV, Good Wife uses limits to its advantage. It plays with episodic form and point of view certainly more than any network show and more than a lot of cable shows for that matter. It has a cold open so long and tense you think the show's almost over before its first commercial break. It's got fully-clothed elevator rides 100,000% sexier than anything that's ever happened in Westeros. For that matter, it knows how to use a commercial break — witness "The Trial" which bookends each commercial break with two angles on the same scene. And it knows how to recover from a mistake — Mad Men spent a whole season in 2013 recovering/escaping from its flashback problem, but The Good Wife fucks up and just keeps walking like The Rock after he's exploded something. The Kings have 22 episodes. They can let a handful of them end in a fireball.
 


It has the absolute deepest reserve of supporting players and cameo arcs on planet Earth. Carrie Preston and Alan Cumming and Kyle MacLachlan and David Hyde Pierce for the love of Frasier! And, great heavens, Alicia Florrick. I don't know whether she's a heroine or an anti-heroine. Florrick is confident, cynical, selfish, ***flawless, loving, lusty, listless, and trying, when she thinks of it, to be good. (It's got episode after episode of material about what it even means to be good. It's a network drama that thinks about goodness as a concept.) This woman receives prophecies directly from Gloria Steinem. All hail the Great and Terrible Alicia Florrick!
Jane: Did I watch any television in 2014? Maybe I'm not equipped to answer this question! And, for all that I did apparently watch, those shows all got swiftly cancelled. I'm a strong proponent of slow television (just finished season finale of Transparent yesterday, and Orphan Black the night before; Broad City was binged all in one night in early November), so my impressions are still settling. All of those shows were great, but they're also somewhat singularly marked by their mode — or in the case of Orphan Black, origin — of distribution.
So to diverge a bit, here are three new network shows that I would recommend for viewing: 1) Jane the Virgin for its ability to overwhelm the viewer with winking metafictionality while also expressing real tenderness, and for its marvelous bus scenes. (Dear readers, the comedy of remarriage gets its renaissance in a real way here); 2) The Flash for giving the enormously charming and talented Grant Gustin a vehicle (literally). The joy of the superhero genre: not just for the big screen. And it's actually quite brilliant that DC Comics decided to translate Barry Allen's narrative for a more serial form like television, considering how the source texts are serial comics! 3) How To Get Away With Murder: IS IT A CRIME THAT I ENJOY THIS MORE THAN SCANDAL? 
Sarah: Game of Thrones and I'm not even going to pretend to talk about anything else. Prepare yourselves.
2. What was your favorite single-episode performance?
Evan: Bill Murray in Olive Kitteridge. This is the man's best non-photobomb work since Lost in Translation.
Lili: Tatiana Maslany in the season finale of Orphan Black, which has so many good moments that I can't allude to because they're spoilery. The
clone dance party has rightly gone down in history as a crazy brilliant technical achievement that manages also — which is rare for highly technical achievements — to feel JUST SO GOOD.
 
Phil: 


This answer is so easy for me, it's practically silly: Carrie Coon, The Leftovers, Episode 6, "Guest." I'm almost alone in loving The Leftovers as much as I do (hey, Sepinwall!), but I am not alone in thinking Carrie Coon is the best thing on it. "Guest" is one of two single-character-focused, field trip episodes in the first season, and it zeroes in on Coon's Nora Durst, a woman who lost her whole family in the show's Rapturesque event and now works as an insurance claims investigator, interviewing people who've also lost loved ones. The Leftovers loves making everyone — characters and viewers — feel uncomfortable, and Nora's job is one of its scab-pickiest conceits. But "Guest" is our first extended time with Nora — who had previously existed mostly in the show's mysterious periphery — and it is as genuinely bonkers an episode of television as I've ever seen. Nora straps on a bulletproof vest and hires a prostitute to shoot her in the chest, travels to New York for a professional conference of people who work in the Rapture industry, has her identity stolen, goes to a drug-fueled semi-orgy of apocalypse professionals, grinds on a fake corpse, and PayPals a significant amount of money to be hugged by a fugitive prophet. There are a lot of plates that need to be kept spinning during this particular underworld odyssey, and Coon — with her glassy eyes, gruff rasp, and vulnerability that oscillates wildly between the fragile and the explosive — puts on a clinic. It's a risky trick of the show to keep a performance like this in its pocket for six episodes. If Coon's Nora, along with her unassailable humanity, had been more prominent in earlier episodes, I wonder if critics would have still found the series so inaccessible? Either way, it's a performance of such desperate life and such phenomenal, strutting talent, that it completely tilts the show's axis. The season eventually ends on a shot of Nora's eyes, and that's appropriate, because after "Guest," they're practically the only thing that matters.
 
Jane: Zach Woods in Silicon Valley: 
 
Sarah: I'm going to go out on a limb here: it was Sam (John Bradley) in the annoying battle episode, "The Watchers on the Wall." I loved him lumbering around.
3. What was your favorite sustained (multi-episode) performance?
Evan: Three-way tie: Laurie Metcalf as Dr. Jenna James in Getting On; Frances McDormand as the title character in Olive Kitteridge; Tracee Ellis Ross as Rainbow Johnson in Blackish.
Lili: Three-way tie: Niecy Nash as DiDi Ortley in Getting On; Tatiana Maslany as almost everyone in Orphan Black, Samira Wiley in Orange is the New Black.
Phil: 


Kate McKinnon is a stupendously good Saturday Night Live cast member cursed to be doing her best work in a transitional period. There's no lack of talent on the show — Taran Killam, Cecily Strong, Aidy Bryant, and now even Leslie Jones — but, for whatever reason, this show is in a funk, and none of those performances have been able to save it. It's like a great baseball team that just can't figure out how to win, and McKinnon is the ace. Like all great SNL performers, she's perfect and weird and comfortable behind the Update desk, and she is almost always the best thing about a sinking sketch. Her Angela Merkel impression, despite becoming something of a recurring character, hasn't devolved into Stefon-level formula jokes, and "Dyke and Fats," her cop show parody with Aidy Bryant, is one of the smartest, funniest, most self-aware bits that's aired on this show in the post-Wiig age. She deserves to be a superstar in a better era, and hopefully that's about to happen.
Runners-up: Nicole Beharie, Sleepy Hollow; Max Greenfield, New Girl; Hadley Delany and Ursula Parker as Louie's daughters on Louie.
Jane: Tatiana Maslany, for sustaining multiple performances over multiple episodes.
Sarah: This one is tough! However I'm going to take the opportunity to praise Pedro Pascal for making Oberyn Martell (RIP) a bright spot in a dark world, but not a weird messiah-fantasy-wish-fulfillment bright spot like Daenerys.
4. What was your favorite scene?
Evan and Lili: Key & Peele's "Gay Wedding Advice" sketch:
 
Phil: I'm a sucker for good musical cues and good dance sequences and — despite or maybe because I don't have siblings — good sibling chemistry. So, this was my favorite convergence of those three areas of interest on a show that features a lot of such convergences. The end of "Moppa" — episode four of Transparent — features Gaby Hoffmann and Jay Duplass having a sleepy, sad, impromptu dance party. The song — "Then You Can Tell Me Goodbye," by Bettye Swann — is the best. If they hadn't started dancing, I was going to. Most of all, though, it's a subtle display of what a beautifully-edited show Transparent is. The scene is edited as a series of jump cuts, and the semi-documentary camera makes it all feel organic but still — with some smooth rack focus — elegantly and intentionally crafted. It's an ending that does quietly what Transparent does best.
Jane: "Swiftamine" sketch:
 
Sarah: The protracted duel/misery fest that was Brienne's battle with The Hound remains on the short list of most emotionally wrenching television I have ever seen, which I guess means that it is "my favorite." But I still can't really think about it without twitching.
5. What was your favorite line of dialogue?
Evan: 
 
Lili:

- Tatiana Maslany, Orphan Black
 
Phil: 
Louie / "Elevator, Part 3"
Charles Grodin:          "Look at this dog."

Louis CK:                    "What's its name?"

Charles Grodin:          "Doesn't have a name. How many legs does it have?"

Louis CK:                    "Three." 

Charles Grodin:          "The answer is it has plenty of legs."
 
Jane:

- Nathan Fielder, Nathan For You
 
Sarah: Surprisingly hard to decide! I had to send a group of friends a whole series of badgering texts in the middle of a workday to get nominees, and we basically decided that while the writing on Game of Thrones is narratively strong, it does not lend itself well to snappy quotable dialogue (which, perhaps, is why I still remember Cersei's brilliant "Power is power" line two seasons later). But here are the two moments I, with help, picked.

and
6. Finish this sentence: "It's not TV, it's…"
Evan: "…Chinatown."
Lili: "streaming."
Phil: The New Republic 4K Ultra HD.
Jane: "…Serial Television"
Sarah: "The world's most difficult spelling bee."
7. What was the most underrated show of 2014?
Evan: Getting On.           
Lili: Getting On.
Phil: Is it possible to underrate Mad Men? I think we all had a hangover from what was, in retrospect, a bummer of a season in 2013. The show has been totally shut out in the recent Golden Globes nominations, Elisabeth Moss couldn't even get a courtesy nomination at the Emmys, and it feels like the split season is making a lot of people very tentative about what was a really really strong showing in 2014. Don't sleep on Mad Men, people!
Jane: Because I have had literally zero conversations about this show with anyone I know: The Flash. (Special mention: Silicon Valley.)
Sarah: The most underrated plotline was Meera Reed, though I am not sure if she was underrated by George R.R. Martin or the screenwriters. But anyway I would have liked to know more about her.
8. What was the most overrated show of 2014?
Evan: Transparent. There's potential here, for sure: a terrific ensemble cast (as Phil has noted) and plenty of fresh territory to explore. But the episode-to-episode continuity and plotting is hella messy, and there's way too much time spent on extremely familiar story arcs (Gaby Hoffmann's Ali finding herself, Amy Landecker's Sarah detonating her marriage) at the expense of what's new and exciting about the show. "They are selfish," Jeffrey Tambor's Maura says of her children, in an oft-quoted line from the pilot. "I don't know how it is that I raised three people that can't see beyond themselves." I wish Transparent would find a way to see past them, too.
Lili: Comedians in Cars Getting Coffee — a pale imitation of Maron's WTF (and The Nerdist and The Dork Forest) with a fraction of the intimacy, depth and insight. And of course True Detective. Hands down.
Phil: This may be an instance of me really stepping in it, but I think Louis CK gets a genius pass sometimes. I was with the teeming hundreds who helped declare the last season of Louie an almost unbearably good season of television, but CK's foray into a longer narrative arc this season was a lot less successful I thought. (Lili's got the only argument that's made me think otherwise.) He's an artist whose mistakes and missteps are still more interesting than most people's perfect executions, and I still loved a lot of this season — Charles Grodin's Greek Chorus and Louie's daughters were a highlight (see above) — but I don't think CK's always in control of his material, I think we grade Louie on a curve, and I feel like I got a lot less from Louis CK than Louis CK promised this year.
Jane: Serial.
Sarah: The most overrated plotline was the build up to the battle of the wall, and specifically the people who overrated it were the makers of the show, who kept acting as though I would automatically care about it when I did not. 
9. Which series gets the "Most Improved" award?
Evan: Community (for obvious reasons).
Lili: Inside Amy Schumer.
Phil: As is the case with all Michael Schur-related shows — The Office, Parks and Recreation — the second season of Brooklyn Nine-Nine has been a total delight. Additionally, just as it was fun to watch Chris Pratt become a big star and still play a lovable supporting doofus on Parks and Rec, it's going to be a blast watching the ascendant Chelsea Peretti burn a hole through the margins of this show.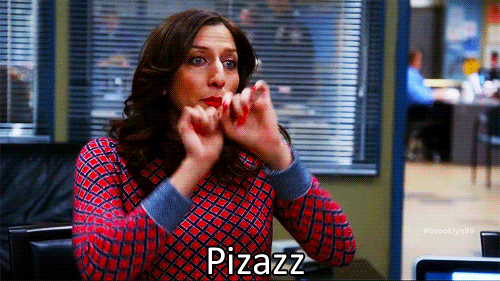 Runner-up: Black-ish got through its occasionally awkward first episodes real quick. That's less of a criticism of those first episodes than a compliment about how fast this new show has become great.
Jane: Mindy Project, which was ALWAYS GOOD fyi, but just keeps GETTING BETTER.
Sarah: The dreaded Stannis Plotline gets Most Improved, THOUGH IT PAINS ME, but only because the last episode was so great (synchronized horse dismount!) and also because the plot line had been so irritatingly bad, "better" was the only possible direction.
10. What show disappointed you most in 2014?
Evan: Marry Me, which goes to show that an impeccable comedy pedigree (Happy Endings, Party Down, Tim Meadows, et al.) only gets you so far.
Lili: The Bridge, which had such an incredibly smart and ambitious pilot and a really decent first season.
Phil: True Detective. I feel like I disappointed myself.
Jane: From A to Z. Ginsberg!!!
Sarah: Obviously the most disappointing episode was this season's "big battle" at the wall in the penultimate episode, which disappointed because it a) failed to make any sense, b) veered tragically into "Robin Hoods: Prince of Thieves" territory with Ygritte's stupid backlit death, and c) could not generate any battle excitement, even with mammoths.
11. Describe a mistake or misstep by a show you otherwise like.
Evan: The Knick started off terrific, and the direction by Steven Soderbergh sustains a level of intensity and inventiveness for all ten episodes. But the fact that the entire series was written in a mere ten weeks begins to show by mid-season, and the script quality really falls off a cliff at a certain point. Still, I'm looking forward to season 2, which the writers (Jack Amiel, Michael Begler, and Steven Katz) will presumably have more time to perfect.
Lili: Benched has so much going for it but I'm afraid it might be bending into its love triangle way too soon. I'm also worried about Girls and Louie. (Louie, I defended what I thought you were doing so hard, but I was wrong, and that finale was a mess.) I'm a big fan of the Bletchley Circle, but season 2 felt — maybe inevitably — slow and unfocused, a letdown in comparison with season 1.
Phil: Remember when Game of Thrones shot a rape scene, and then everybody involved with that show acted like they didn't? (Side bet: Five bucks says Game of Thrones is going to steeply decline in quality this coming season. Like, Homeland-style. Anybody?)
Jane: Silicon Valley just needed a FEW MORE WOMEN who were good at computers. It was still the show that made me LOL the most this year.
Sarah: It's more GRRM's fault than the show's but I really hated the treatment of Shae this season.
12. What was your favorite live televised event (sports, award show, etc) of the year, and/or moment in said event?
Evan: I had high hopes for Allison Williams in That's Why I Chose Neverland whoops I mean Peter Pan, but it turned out to be boring. So… no comment. 
Lili: N/A
Phil: 
Great awards show joke, or greatest awards show joke?
 
Jane: Every time Drake did something cute at a basketball game:
 
Sarah: EYE-PLOSION! OMG, there has never been anything like the Oberyn/The Mountain showdown!!! SPECTACULAR!
 

¤
To be continued… Tomorrow!